VELUX ZZZ 176 Surface Repair Kit for Pine Roof Windows
---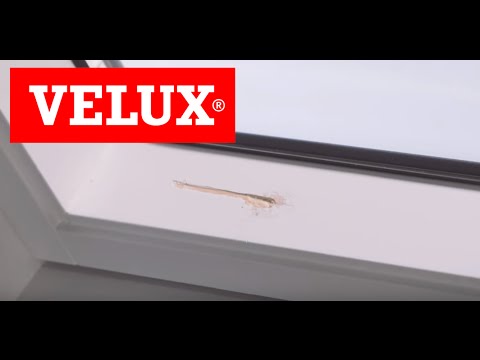 Delivery:
up to 6 working days
Delivery:
Brand:
Product Code:
MPN:
up to 6 working days
VELUX
ZZZ176
ZZZ 176
220ml of clear wood lacquer for VELUX pine roof windows.
To keep your VELUX roof windows looking their best - special DIY kit available for timber finish roof windows.
Maintenance
Windows exposed to strong heat, strong sunlight, and/or an especially high level of humidity (eg in a kitchen or bathroom) should be treated at least every two years.
Treatment: any surface treatment (varnish or paint) is removed, and then the clean, dry surface is primed and lacquered/painted with a waterbased acrylic/varnish. If the varnish/paint is damaged, the same treatment is applied to the areas in question.
When you treat wood, it is important to cover the gaskets to prevent varnish/paint rubbing off on the gaskets, as this will make the gaskets stiff/hard and spoil their effect.
Please note: our guarantee depends on on-going maintenance being carried out in accordance with the above-mentioned maintenance directions.
Windows produced before 1992
If the window was produced before 1992, it has only been treated, not varnished at the factory. The choice of final treatment was intended to be up to the customer. As maintenance and post-treatment depend on the final treatment originally chosen, you should contact your local paint shop to hear how subsequent treatment should be carried out.
| | |
| --- | --- |
| Brand | VELUX |
| Type | Repair kit for pine |
All Sterlingbuild orders have FREE standard delivery when your order is over £100 + VAT.
However next day delivery will carry a small next day delivery charge which will be shown in the final shopping basket
Unfortunately additional delivery charges will apply if you live in the Scottish Highlands and UK islands. These delivery charges are based on additional costs from our national couriers.
If additional shipping fees apply, a member of our team will contact you before processing your order to let you know.
We will do our very best to make sure your delivery arrives by the date required, however manufacturer availability and delivery schedules cannot always guarantee this.
Should your estimated delivery date differ from that displayed on our website, one of our team will inform you by email or telephone
View full Delivery Information