Lightway Crystal 300 HP Basic Kit for Pitched Roof 1.6m with Blue Performance 0.6 W/m²K
---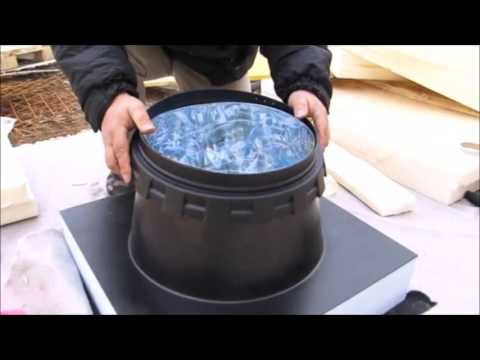 Guarantee

25 years

Roof Pitch

15-90°
Delivery:
Brand:
Product Code:

1 working day
Lightway
LIG-3002011002B
The Lightway Crystal sun tunnel adds more natural daylight to the home than competitor products and guarantees performance that will be as good in years to come as on the first day you installed it.
This sun tunnel size is ideal for ensuite bathrooms, walk-in wardrobes & cupboards.
Why does it perform better than competitor brands?
Bohemian Crystal glass dome collects 30% more natural daylight than polycarbonate equivalents
Very little maintenance - the glass dome is self-cleaning and won't deteriorate, yellow, rust, or rot over time

Lightway is so confident in its tube's performance, it has a 25 years guarantee

Extremely reflective sun tube, with 99.8% reflectivity

Made with advanced electroplated techniques, using layers of silver, copper and other precious metals
Results in a very solid, highly reflective layer; compared to competitors that use a silver foil layer

Sturdy clips holds tube in place rather than tape that will unstick
Glass diffuser, as opposed to a plastic one, allowing light to be evenly distributed throughout your room
Whether you purchase a flat or pitched roof sun tunnel, the Lightway Crystal will easily fit between rafters and joists, requiring no alterations
Very aesthetically-pleasing on your roof
How many sun tunnels do I need for my room?
The more you install, the better the results.
As with vertical windows and skylights, the more space you give daylight to get into your room, the better the results. We advise you purchase the biggest you can, and aim for 1 or 2 sun tunnels to be installed in the centre of your room, or a handful of smaller sun tunnels evenly spaced around the room. The brilliant thing about a sun tunnel is that they are suitable for any room and won't look out of place!
This chart shows which sun tunnel size is best suited to a type of room.
| | | | |
| --- | --- | --- | --- |
| Tunnel diameter | Room size | Room type | |
| | 0-4m2 | Small rooms, cupboards and short corridors | |
| | 4-10m2 | Hallways, small bathrooms or specific area of a larger space | |
| | 11-15m2 | Large hallways, stairwell and bathrooms | |
| | 16-22m2 | Kitchens, bedrooms and living rooms | |
How much daylight will this sun tunnel produce?
3 lightbulbs on a sunny day, 2 lightbulbs on a cloudy day.
The handmade Bohemian Crystal dome is unique to the Lightway Crystal sun tunnel. The crystal glass dome doesn't distort the colours of sunlight, and provides a unique movement of continuously shifting light spectrum as the sun changes position.
The light quality from the Lightway Crystal is incomparable to a standard electric bulb. Your sun tunnel will give out far more light than most energy-efficient bulbs on the market, and this light will be warm natural light, incorporating the complete colour spectrum, as opposed to the limited capabilities of a standard bulb.
Why Do You Need Blue Performance?
To enjoy the benefits of Lightway's extraordinary thermal performance technology.
This element has finally made sun tunnels safe and efficient equipment for transporting sunlight, without the unpleasant side effects of ordinary sun tunnels.
Warm air and cold air do not mix. Warm air from the building collides with cold air from the outside, causing condensation. Blue Performance is a double or triple glass insulation unit filled with argon gas, which is installed at the point of the building's layer of insulation. Blue Performance catches the condensation until it evaporates, meaning water won't settle on the diffuser and cause mould on the ceiling.
Water will not leak from your installation and cause damage
There will be no loss in thermal performance in weather
Your installation will not contribute to your room overheating in the summer
Your ceiling will not form mould
Your installation will meet low energy and passive house standards
Installation available by Authorized Lightway Sunpipe Installer from only £200* - please call for details (prices are subject to location and number of systems).
| | |
| --- | --- |
| Application | Pitched roof |
| Brand | Lightway |
| Compatible Roof Material(s) | Universal |
| Diameter | 23cm (9") |
| Diffuser Material | Sodium-potassium glass |
| Dome Material | Bohemian crystal |
| Guarantee | 25 years |
| Internal Tube Material | Sterling silver |
| Pack Includes | Bohemian crystal dome, glass diffuser & white trim, flashing & collar, ceiling tube, 2x 625mm long reflective tube, 45° adjustable elbow, blue performance 0.6 |
| Reflective Tube Guarantee | 25 years |
| Roof Pitch | 15-90° |
| Room Size | 4-10 m² |
| Style | Pitched roof with blue performance |
| Tube Length | 1.6m |
| Tube Type | Rigid |
All Sterlingbuild orders have FREE standard delivery when your order is over £100 + VAT.
However next day delivery will carry a small next day delivery charge which will be shown in the final shopping basket
Unfortunately additional delivery charges will apply if you live in the Scottish Highlands and UK islands. These delivery charges are based on additional costs from our national couriers.
If additional shipping fees apply, a member of our team will contact you before processing your order to let you know.
We will do our very best to make sure your delivery arrives by the date required, however manufacturer availability and delivery schedules cannot always guarantee this.
Should your estimated delivery date differ from that displayed on our website, one of our team will inform you by email or telephone
View full Delivery Information
You Might Be Interested In
You might be interested in these too