Keylite Pine Thermal Centre Pivot Roof Window
---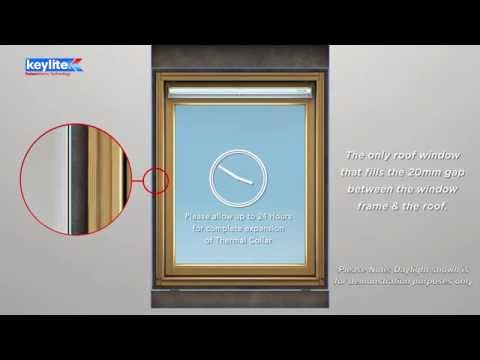 Guarantee

10 years

Roof Pitch

15-90°

U-value

1.3 W/m²K
Delivery:
up to 5 working days
Delivery:
Brand:
Product Code:
MPN:
up to 5 working days
Keylite
CP01T
CP01T
Keylite provide features to their products, as standard, that other suppliers would require additional costs for. Their innovation guarantee ensure products are high-quality and long-lasting. With a 10 year guarantee, you can trust your window's longevity and have peace of mind.
An integrated expanding thermal collar is activated by simply pulling release tab. The collar fills the gap between the window frame and the roof, reducing the cold bridging effect. This insulation reduces heat loss, improves U-values, and minimises the risk of condensation.
Keylite roof windows also have warm edge glazing, as standard. This glazing helps to further protect against condensation and thermal bridging, enhancing your window's performance and helping to keep heating bills down in the winter.
A slimline ventilation handle comfortably opens the window and the ventilation flap. This allows for trickle ventilation, even if the window is locked shut. A ventilation filter ensure that only fresh, clean air enters your home.
Sash hinge finger springs
This allows the sash to be installed back into the frame in one smooth, effortless motion.
These brackets are pre-fitted to the window, making installation quick and easy, without the need for loose brackets or screws.
The hood is designed to create a low profile and features a sculptured design, increasing the aesthetic appeal of your roof window in your roof profile. Every Keylite roof window is also recessed as standard, enhancing the overall appearance of your roof, as well as improving thermal performance. This is achieved using Keylites standard flashing range, meaning there is no additional cost to you.
Natural lacquered pine centre pivot range
Durable and maintenance-free
Keylite's natural pine roof windows have multiple coats of clear, satin lacquer. This ensures that the windows are hard-wearing and durable; you can trust their quality and longevity. Lacquer also means that your windows are easy to clean and will maintain their attractive finish for years to come.
Keylite centre pivot roof windows rotate through 180° and lock into place. This allows easy access to the outer surface, making cleaning easier than ever before.
The clean, traditional appearance of pine is a practical choice for many interior finishes.
Keylite windows require the use of original Keylite flashings and accessories.
| | |
| --- | --- |
| Brand | Keylite |
| Conservation | No |
| Effective daylight area | 0.197 |
| Enhanced Security | No |
| External Finish | Grey |
| Flashing | Not included |
| Frame Material | Pine |
| Glazing | Double glazed |
| Glazing Feature | Laminated |
| Glazing Guarantee | 10 years |
| Guarantee | 10 years |
| Inert Gas | Argon |
| Internal Finish | Pine |
| Opening Mechanism | Manual |
| Opening Method | Centre pivot |
| Operation | Manual |
| Roof Pitch | 15-90° |
| Size (W x H) | 55 x 78cm |
| Suitable for Escape/Access | No |
| Toughened | Yes |
| U-value | 1.3 W/m²K |
| With Insulation Accessories | Yes |
All Sterlingbuild orders have FREE standard delivery within the UK mainland when your order is over £100 + VAT.
However next day delivery will carry a small next day delivery charge which will be shown in the final shopping basket
Unfortunately additional delivery charges will apply if you live in the Scottish Highlands and UK islands. These delivery charges are based on additional costs from our national couriers.
If additional shipping fees apply, a member of our team will contact you before processing your order to let you know.
We will do our very best to make sure your delivery arrives by the date required, however manufacturer availability and delivery schedules cannot always guarantee this.
Should your estimated delivery date differ from that displayed on our website, one of our team will inform you by email or telephone
View full Delivery Information
You will need one of the following products with your purchase
Keylite Tile Roof Flashing 55x78cm
from £43.80
Keylite Slate Roof Flashing 55x78cm
from £45.45
You Might Be Interested In
You might be interested in these too
Keylite Deep Tile Roof Flashing 55x78cm
from £55.40
Keylite Window Opening Pole - 2m
from £31.15
Keylite Window Opening Pole - 3m
from £34.70